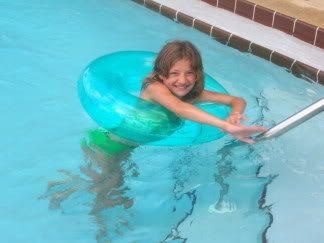 I can see her swaying in the hammock in the backyard. One bare foot is propped against a tree to maintain the hammock's gentle rocking. She is completely at ease in our world.
I laid awake last night for what seemed forever dwelling on the strangeness of the day. I could see the darkened doorway of Hannah's room and I found myself rising to check on Kristina several times. Each time I would find her twisted a different way in the enormous bed, but fast asleep. How has any of this happened? Wasn't I just contemplating a solo missionary journey? How is it that this child has managed to follow me back? There is an awe that comes from praying for something that seems so big and watching God deliver faithfully.
She awoke before us and had made her bed and finished organizing the closet. As I was getting ready I could hear Robert offer, "Kristina, do you want to take a walk?" I heard his feet stomp the floor as he played charades with her to illustrate his question. When they return he is laughing at her amazement of walking the block and finding herself on the doorstep again. He said she saw a squirrel and squeeled "Squirrel!" and took off after it. Thankfully it got away :)
Robert is determined to feed this child. He took her to a breakfast buffet and the two of them ate and ate and ate. We went to Sam's Club to get groceries and the two of them picked out almost more than our freezer can hold.
Since she woke up this morning, she has been asking to go swimming. We managed to make it to the pool this afternoon. Does she like swimming?
I know that the ups and downs will materialize this summer. Thanks again for your faithful prayers. I know that you are holding us up to the Lord!