But he said to me, "My grace is sufficient for you, for my power is made perfect in weakness." Therefore I will boast all the more gladly about my weaknesses, so that Christ's power may rest on me. - II Corinthians 12:9
I put my daughter on a plane yesterday and sent her as far away as I could imagine. She woke up in the morning and said, "Leslie, please. I want to go to school today." Knowing how much she struggled with the entire school experience, her request came as a surprise. I told her she could ride with me to drop them off, but we needed to get ready to go to the airport. She did not pout or fight with me over the issue. I let her sit in the front seat for the ride to school and she surfed music stations on the radio. "Leslie, I do not want Russia." I told her I knew that and that we didn't want her to go either. When we reached school and dropped the children at the benches, she rolled down the window and called for Hannah. She leaned out the window and hugged her summer sister and said, "I will miss you, Hannah." On the way back to the house she whispered, "Leslie? I did not tell Hannah that she is my sister. Will you tell her I said that she is my sister?"
Later that morning we headed for the airport and Kristina asked to make a few phone calls to say goodbye. It was hard to watch her try not to cry as she spoke with people who have changed her life and impacted her beyond their knowledge. We stopped by Robert's jobsite. He hugged her and said over and over again, "We had fun, right?" It was the only phrase he could utter and remain composed. "We will see each other soon. Maybe you can come for Christmas?" It was all he could dare to give her at this point.
What a blessing that would be to have her back for the holidays. Even with the hope of a future reunion, we all know that the months between now and then will be painful. Knowing that she will not have access to the nutrition, love, and support she needs over the coming months hardly made the promise something to cling to. We know what she is going back to and we know that unless we can permanantly remove her from that situation, we won't rest. She will quickly lose all the weight she gained. She will go back behind the emotional wall that we worked so hard to coax her out from all summer.
Her arm remained linked through mine while we were at the airport; she didn't wander more than a few inches from me the entire morning. We checked her bags through to Ukraine and navigated our way through security. She wanted to know when I would be leaving. Would I be able to sit with her on the plane? Would I be able to walk her to the guardian who would meet us in Washington? A window seat on her first flight of a very long day gave her some distraction for the two hour ride into D.C.
I didn't know how I would handle the parting. My
first experience of leaving her
was like a death. It was one of the most painful experiences of my life. But throughout the day, I received e-mails and text messages over and over again, words of hope and encouragment from friends, students, and family. I realized that so many of you were walking with me on this journey. I felt insulated against the dispair I experienced the first time Kristina and I parted. In fact, I felt at peace and content. I felt the comfort that comes from walking in the will of God even when it is contrary to our desire. God reminded me that Abraham was once asked to part with a child that he loved dearly in order that God might be glorified and Abraham's faith might be tested (
Genesis 22:1-18
). I want our faith to be that of Abraham's, "Abraham believed God, and it was credited to him as righteousness, and he was called God's friend."
(James 2:20-24)
When the time came for us to say our goodbyes, it was as if she was only going away for a day. I reminded her to obey her caregiver, to practice her English, to know that we would pray for her, to know that we would see each other again soon. "Soon, Leslie? We will see each other soon?" I asked her if she remembered that I said the same thing to her when I left Odessa in May. She nodded. I asked her where she had been for the last 10 weeks. "America," she said with a faint smile. I told her that God had answered our prayers once and He would do it again. With that, she boarded the plane without tears and with anticipation of what the Lord of all things would bring to pass.
Continue to pray for Kristina as she adapts to life in the orphanage again. Pray that we will find the vast resources necessary to adopt this child and give her a forever family. Pray for our family as we grieve the temporary absence of a Landrum child.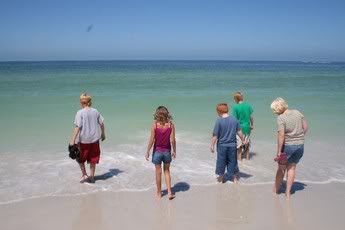 After you have suffered for a little while, the God of all grace, who called you to His eternal glory in Christ, will Himself perfect, confirm, strengthen and establish you. -I Peter 5:10