Okay, I apologize to those of you who are faithful to check in. We left Thursday the 29th to pick up the kids from summer camp in North Carolina and I haven't had a chance to sit down and update you. Let me back up and I will get you up to speed with where we've been and what we've been doing.
Wednesday the 28th, Robert, Kristina, and I walked around Downtown Disney. We had lunch at The Rainforest Cafe (overpriced, mediocre food but great atmosphere). Kristina was a little anxious around the animatronics and light/sound effects, but we enjoyed things nevertheless. That evening, Robert was craving a little taste of home so he took out the boiler and cooked Cajun crab legs. Kristina cringed watching him cook them. I wonder what she thought they were! He teased her as he peeled and crack each one. She eyed him cautiously until curiosity got the best of her and she took a piece offered to her. By the time dinner was over, she was cracking and eating them all by herself.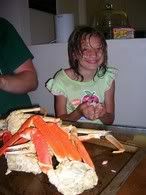 Thursday morning we set off for the Blue Ridge Mountains of North Carolina to pick up the kids from summer camp. I was a little concerned about how she would handle the nine hour trip. Before she left Ukraine, I had one of the translators purchase her three books in Russian to help her pass the time. She "oohed" over the changing scenery as we got closer to the mountains. A few renditions of "If you're happy and you know it wash your hands!" (yeah, we're not sure how that got messed up) and we were there. She did great and only got restless the last hour of the trip. We checked into the retreat center at Ridgecrest and decided to hike up the mountain side to expend excess energy from sitting in the car all day. We found ourselves at a picturesque lake right before dusk and walked the circumference of the lake as the sun was setting.
As it grew darker we hiked back down the mountain and found ourselves surrounded by lightning bugs. As Robert caught bug after bug for her to inspect, she could only whisper "wow". Friday morning we got up bright and early to attend the closing ceremonies at CrestRidge Girls Camp. I knew the girls were excited to meet each other. Hannah saw us driving into camp and jumped into the backseat with Kristina where they made their own introductions. From that point on, they held hands as Hannah showed her around camp. At lunchtime we headed over to the boys camp Ridgecrest to claim our boys. The boys were equally welcoming and things fell into their natural rhythm.
We drove home immediately following the boys' camp ceremonies and got back to Orlando at midnight. We took things slowly Saturday, sleeping in and swimming at the pool later in the afternoon.
Sunday afternoon we drove over to Tampa to see the Florida Aquarium. The aquarium is located in the port where cruise ships line the terminals. "Look, look, look!" she would squeal as we drive past the massive ships. In the aquarium Kristina would cover her mouth and look wide eyed at the huge grouper fish and delicate sea dragons. After touring the facilities we went outside to play in the fountains.
We are looking forward to celebrating the Fourth of July with Kristina this year. I will update you again soon!