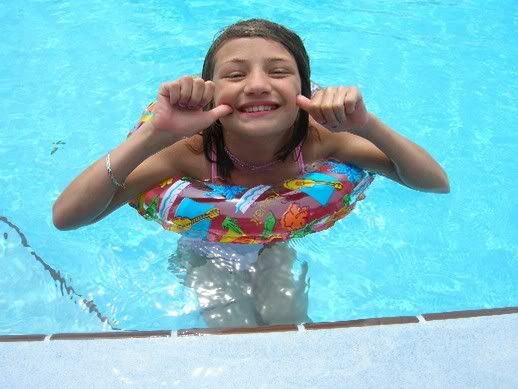 Summer officially began for us as a family today. It was the first morning that Robert went off to work early and we all slept a little later. After tidying up the house, we ran errands and then met Robert for lunch. But it
felt
like summer when we headed to the community pool. I claimed a shady spot with a book that I've been working on since my NY trip. The kids threw themselves into the cool blue waters and played for two hours. I am grateful for their ability to get along and play together. They're more than siblings; they're good friends.
We spent so much time together at the pool last summer. Kristina loved the pool. She showed little fear of the water and learned to swim very quickly. It was the one activity that all the children loved. It was great exercise and wore them out. I think about Kristina at camp now. The orphanage closes each summer to give the workers a break and the children are sent to a camp on the Black Sea. Don't get any glamorous ideas; the facility was a Soviet indoctrination camp at one time. I visited it last Spring with Pastor John from Vineyard Church in Virginia. Concrete everything. Not exactly our concept of a summer get-a-way. The children have a very structured schedule at the camp and spend time on the beach daily. As I slathered sunscreen on my four before they hit the water, I thought about Kristina. I considered buying a bottle to slip into her next care package. Sunscreen is a luxury; she'll be lucky if she even has a swimsuit. Apart from overexposure to
the sun
, I am concerned about her time at the camp. Supervision is not what it is at the orphanage and the kids roam a little more freely than usual. Pray for Kristina that she will be safe and protected throughout the summer.
We continue to watch the mail daily for our I-171. The poor mailman thinks we're stalking him. Pray that that little piece of paper makes it to us soon.